VII- How to set up a sustainable community tourist project/ business
Everyone who wants to set up a sustainable tourist project together with a local community has to be very well prepared. First try to get to know the community. Spend time with them. Learn how they live, what they want, what they need, and what they're capable of. Ideally, you learn the language of the community, but with indigenous communities, this might be difficult, especially at the start of your project. If you don't speak the language (yet) make sure to hire a trustful translator. Then it's time to find out what type of project is both sustainable for the community and attractive for tourists. For this, it is important to know the capabilities of the community and actual trends in tourism. You have to check the market, what is popular and why? What will be special about your project? How can tourist reach your project and will it be safe for them to visit? Why would tourists want to come and how will you be able to make your project profitable?
You've answered the questions above? Then it's time to tell and explain the community about your ideas. It is important that they understand the possible impact of your project and the arrival of tourism within their community. Together you will then have to discuss what the community needs, what they want and how your project can contribute to their needs and wishes. Be aware that you never make any promises that you can't keep. It is also important that you discuss the possible negative side effects from your project. At this point it is essential that most members of the community understand and actively support your plans. Do they want to work with you, or merely let you do your thing? If they don't show active interest at this point, you should consider abandoning your ideas. If they do show active interest, you need to find the right partners within the community. This might be the most important and most challenging part. Your local partner(s) need to be trustful and have a leading position within the community, or else nothing will happen.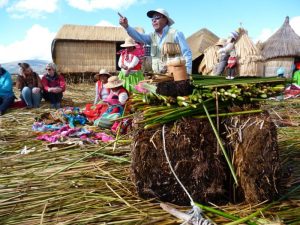 Now it's time to make long term plans and collect enough money. It's likely going to take time for your project to become independently sustainable. It is good to start as soon as possible building up working relationships with people who can help to sell your product. While working on your project it becomes more sustainable if you really work together and educate each other. Teach the members of the community how to work with you, but stay open for their opinion and their skills. A useful skill to teach a local community includes foreign languages like English, German, French, and Chinese. Keep in mind that it isn't only about teaching a new language, it is equally important to teach the community more about those different cultures. This way they get a better understanding of the expectations of their clients. Other important skills to teach include managing, guiding, cooking (for foreigners), and administrative work. When some members of the community can learn these skills you can limit the number of people you have to contract from outside.
Patience is going to be a very, very useful skill for you to have. You will have to be prepared that at first many things will not go as previously planned. Therefore you will have to keep an eye on everything and will have to be able to explain the same things many times. Maintain personal contact and stay close to your project and the people involved.
As soon as your social project becomes the projected tourist attraction it is time to look for and invite your clients. The biggest challenge is to become known. No matter how great you attraction is, without the right publicity it is likely going to fail in attracting enough attention. It's best to hire professional assistance. Explain them all the goals of your attraction and make sure that you sell your attraction with honest information. Explain your clients properly about the goals of your attraction, their contribution and their responsibilities.
If your new tourist attraction is finally up and running, make sure to keep your promises, as well towards the community as towards your clients. You will also need to continue to monitor and store the information about your progress. Keep in mind that many projects fail because they underestimated the challenges that tourism brings. Some arguments from development studies state that: No matter if you're an NGO, volunteer organization, or travel agency when starting a community tourism project, the aim should be that after a few years the community can become independent. I disagree with this statement.
1.2 The first travel agencies
According to Wikipedia Cox & Kings is considered to be the first modern travel agency. The company's history stretches back to May 25, 1758 when Richard Cox was appointed as the regimental agent to the Foot Guards of His Majesty's Armed Forces. His role as agent included the arrangement of payment of officers and men, the provision of clothing, acting as a go-between for the buying and selling of officers' commissions, and acting upon any special requests from the regimental adjutant. Regimental agents did not have a very good reputation before Cox, but such was his honesty, reliability, and organizational ability that he made it a respectable business and Cox & Co soon became the agent for the majority of British regiments. After World War I the company merged with rival bank and shipping agency Henry S King & Co, creating Cox's and King's, becoming more of a travel agent for businesses, with strong ties to India.
The second oldest travel agency is called the Abreu Agency and was established in Porto in 1840 by Bernardo Abreu. At the time, emigration from northern Portugal and Galicia to Brazil and Venezuela were significant, and Abreu, a noted businessman in Porto, opened his agency to offer passport and visa services, as well as sales of train tickets to Lisbon and ship passages to and from South America. Five generations later, the company is still owned by the same family and their direct descendants.
One year after Abreu Agency, Thomas Cook was the first to start a travel agency for the sole purpose of organizing leisure trips. Their history started in the summer of 1841 when its founder, who gave his name to the company, organized a successful one-day rail excursion at a shilling a head from Leicester to Loughborough. During the next three summers, Mr. Cook arranged a succession of trips, taking passengers to Leicester, Nottingham, Derby, and Birmingham. Four years later, he organized his first trip abroad, taking a group from Leicester to Calais. This was followed in the 1860s by trips to Switzerland, Italy, Egypt, and America. At that time Thomas Cook pioneered the concept of affordable group travel tours. By establishing relationships between tour operators, transportation companies, and hotels, Thomas Cook was able to get deep volume discounts on travel services and passed those savings to its customers.
It wasn't until 1924 that a British company published the first mainstream guide book for business travelers, the South American Handbook. In the seventies, their focus moved towards people who travel for fun and in 1996 they changed the name of their books to Footprint Travel Guides.
1.3 Modern-day tourism
Modern tourism might have started with the leisure trips from Thomas Cook, the real explosive start of leisure 'mass tourism' might have been with young people exploring the so-called "Hippie Trail". In 1955 a group of British students decided to travel along the Silk Route of Marco Polo. Exciting stories about their adventures slowly reached the young Western society and sparked the interest of the 'rebelling youth' from that generation. With the cost of air travel unattainable by the average young university student, they were excited by the notion of travelling overland by local transport, walking trails and hitchhiking. Although it wasn't the first time that travelers went backpacking, many refer to this moment in history when the idea and culture of 'backpacking' really began to emerge. Those early backpackers were called 'hippies'. They were mostly European, Japanese, American, Canadian, Australian and Kiwis who began their adventure in Amsterdam or London, before making their way to Istanbul to begin their overland travel via Iran, Afghanistan and Pakistan to Nepal, India, or even Thailand. The Silk Route soon became known as the Hippie Trail. Talks of paradise, beaches and legal drugs aroused the counterculture and youngsters eager to break away from the frameworks of society.
With this surge of new visitors, local bus companies jumped onboard to offer transportation, while other backpackers bought minivans and motorbikes to make the long journey. The Beatles 1968 trip to India further fuelled a desire to explore the East. Marijuana was readily available in Afghanistan, Kashmir and Nepal and until 1973 it was legal to buy local hashish or charas in shops. In an era deprived of the internet, travellers relied on stories and word of mouth to make their way along the hippie trail. Handwritten notes were also being exchanged along the route, which inspired the Wheelers. In 1973 they published their first mainstream guide book for the low budget traveler, Across Asia on the Cheap, followed in 1975 with their first Lonely Planet.
As laws began to tighten in Nepal throughout the early 1970s, hippies began to flock to the beaches of India. Goa became a popular spot. Shacks were built in the forests and were lined across the beaches. Meditation, free sex, LCD, hashish, 'community life' and electronic music flourished as Goa's new inhabitants preached religion, spirituality and peace. However, it wasn't all sunshine and happiness. Overdose and insanity gave way to a dark undertone of the free life. Many travellers became sick or even found themselves in jail. The big impact that all these foreign travelers had on local nature and culture can be described as the first consequence of 'mass tourism'. Their presence, actions and cultural exchange, transformed forever the looks of Goa and other places along the ancient Silk Route and new Hippie Trail.
Following an increase in demand, traveling by air decreased significantly in price. In combination with a good economy in the western world and more free time (shorter working weeks), traveling abroad became more affordable and popular. More and more people started to travel for pleasure and tourism became an industry in itself. The unlimited information on the internet, the incentive from social media, and the intuitive use of booking websites have now transformed tourism into one of the biggest industries in the world. This inevitable expansion of the tourist industry has its impact on the environment and earth's current climate. The difficult question is: "How much?"